Hebei Shoulang project won the National Quality Engineering Award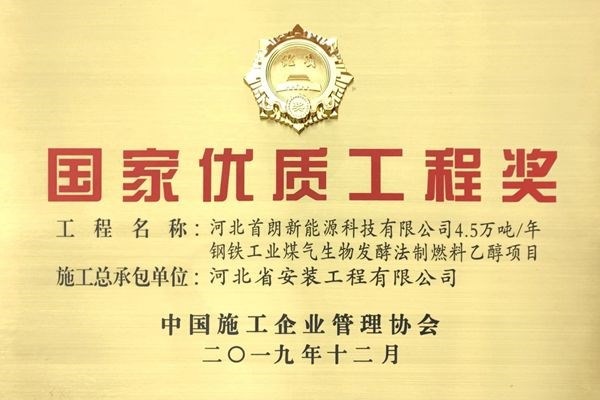 On December 8, the awarding ceremony of "National High Quality Engineering Award" sponsored by China Construction Enterprise Management Association was held in the National Conference Center. The 45000 ton / year project of Hebei Shoulang New Energy Technology Co., Ltd. constructed by our company, which is the fuel ethanol project of biological fermentation of steel industry gas, won the "National High Quality Engineering Award 2018-2019". The national high quality engineering award is the earliest and the highest standard award in the field of engineering construction in China.
The project is the world's first commercial chemical plant to produce fuel ethanol by biological fermentation of tail gas from iron and steel industry. It introduces the unique biological strains and fermentation process owned by langze company, and adopts advanced design concept and process flow. The successful construction of the project has realized the efficient and clean utilization of industrial tail gas resources, effectively reduced the emission of pollutants, started the revolution of carbon capture, carbon utilization and carbon cycle, promoted the development of circular economy of iron and steel industry, demonstrated and popularized the comprehensive development and utilization of tail gas of iron and steel industry in China, and has good economic, environmental benefits and far-reaching society Significance.
The project was started in September 2016, completed in May 2018 and successfully put into operation once. It mainly includes: gas pretreatment, fermentation and auxiliary materials, distillation and dehydration, tail gas treatment, protein feed, finished product tank farm, sewage treatment and complex building and other sections. During the construction, strictly implement the requirements of national standards and excellent planning, adhere to the fine management and standardized construction, strictly enforce the process discipline, strictly control the quality, and actively work together with all participating units to build first-class projects and high-quality projects. In the process, "ten new technologies" and green construction technology have been widely used, realizing "four sections and one environmental protection", achieving better so
Next:没有了!